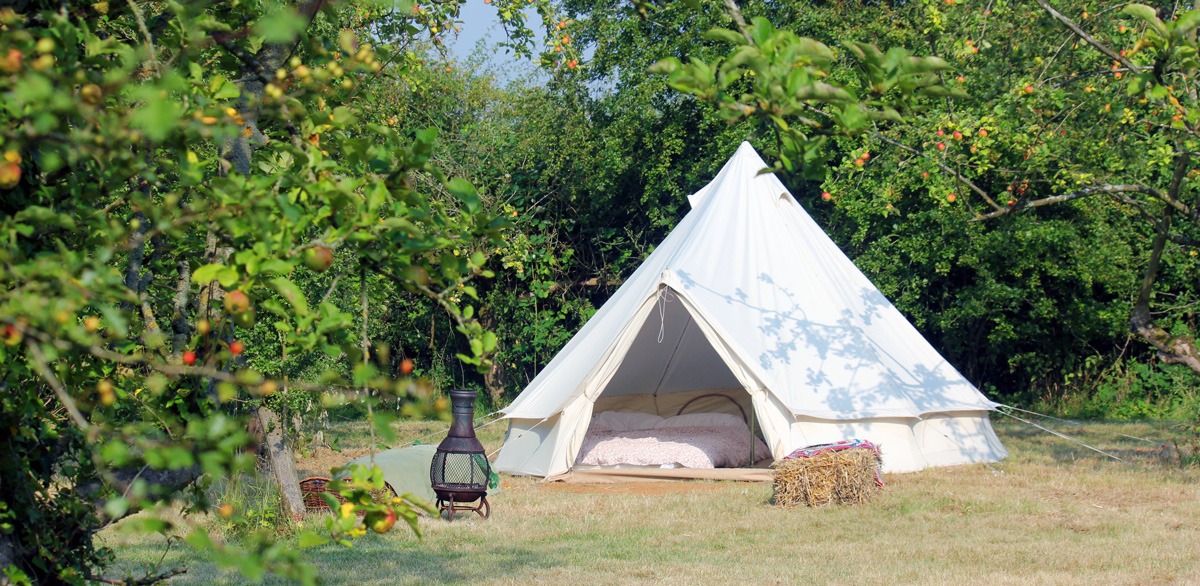 Come camping in Suffolk. We are pleased to offer our, pre-erected bell tents for people who like their camping a little more convenient.
Ideal for a couple of nights or weekend break, every bell tent comes equipped with the essentials and ready to go.
Each tent can accommodate 4 comfortably and come with a double bed and two singles as standard. An extra single or smaller toddlers/babies bed can also be added – please let us know your requirements.
Bell Tents come with…..
A double sprung mattress
Two single roll out beds for kids
All bedding
Led tent lights
Picnic table
2 x deck chairs
Bbq + utensils
Coolbox + icepacks
Water container with tap
Washing up bowl
2 ring camping gas stove/grill + gas
Kettle
Cooking pans
Frying pan
Cutlery/plates/bowls/glasses/mugs (4 of everything)
Bottle/tin opener
Bell Tent Booking
Our bell tents are situated in their own private clearing within the old apple orchard. Parking is provided elsewhere so the clearing has plenty of space.
There are standard tent pitches available in the bell-tent clearing only available to those camping with bell-tenters. Please contact us when booking.
Booking is essential for the bell tents.  We prepare everything in advance for you, so you can just turn-up on you pre-booked day.
Please arrive after 3 and be away by 12 on your last day.
Sorry but we do not allow dogs in the bell tents.
Choose your dates to begin booking